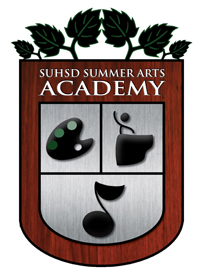 The Sweetwater Summer Arts Academy is a FREE one week learning opportunity offered each summer to Sweetwater Union High School District students in Visual and Performing Arts classes.
The 2019 Academy takes place at Chula Vista High School from June 10th through June 14th, 2019 from 9am-4pm, Monday thru Friday. Lunch will be served. Each day will be divided into 5 sessions including work specific to each discipline as well as leadership skills.
Interested students may apply below. Teachers from each of our school sites will then recommend students from the seven VAPA disciplines (Visual Art, Orchestra, Choir, Concert Band, Dance, Baile Folklorico, and Mariachi) to attend the Academy.
If you are interested in attending the Summer Arts Academy in 2019, please fill out this form AND turn in the printed part of the application to the VAPA Office. Make sure you have your parent's permission to attend the entire week: June 10-14, 2019.
IF YOU ARE PLANNING ON ATTENDING SUMMER SCHOOL, PLEASE DO NOT APPLY. YOU CANNOT ATTEND BOTH SUMMER SCHOOL AND THE SUMMER ARTS ACADEMY.
Application deadline has passed
Click here to watch a short video on last year's Summer Arts Academy at the Army Navy Academy.