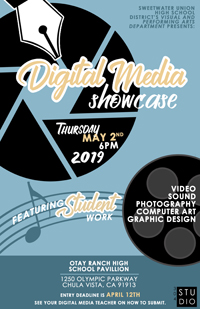 2019 District Digital Media Showcase  was Thursday, May 2nd, 2019 at 6pm. Location: Otay Ranch High School Pavilion (1250 Olympic Parkway, Chula Vista, CA 91913) Downloadable HERE, designed by ORH student Natalie Hoang.
The eleventh annual Digital Media Showcase featured student work created in digital media classes throughout the Sweetwater Union High School District. Student work in photography, computer art, graphic design, video, and music technology was celebrated. Industry professionals judged the submissions and awards are given to the top entries!
Acknowledgements:
VAPA Director: Jeff Kover
Digital Media Committee Chair: Kelly Hamilton
Digital Media & Graphics: Beatriz Gonzalez-Sallach
Webmaster: Ed Lim
Participating Schools:
BVH, CPH, CVH, CVM, ELH, ELM, HTH, OLH, ORH, RDRM, SOH, SUH, and SYH
Special thanks to all our community judges, teachers, and staff for volunteering their time and supporting the arts in our schools.